Quality
Our Commitment to Quality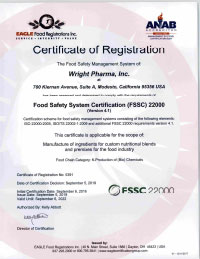 Over the past 50 years, advances in technology have revolutionized the way products are developed and the methods in which they are manufactured.
The Wright Group brand, TWG Health + Nutrition, further defines our product offerings with custom premixes, granulations and microencapsulation products.

However, one constant has remained the same — our commitment to delivering only the highest quality products in the industry.
Defining Quality
We define quality as:
Delivering solutions that meet or exceed our customers' performance expectations
Engineering enrichment products, global nutrition solutions and bakery and milling solutions that are functionally superior
Creating nutrient systems and ingredients that are specifically engineered to maximize the performance of your final product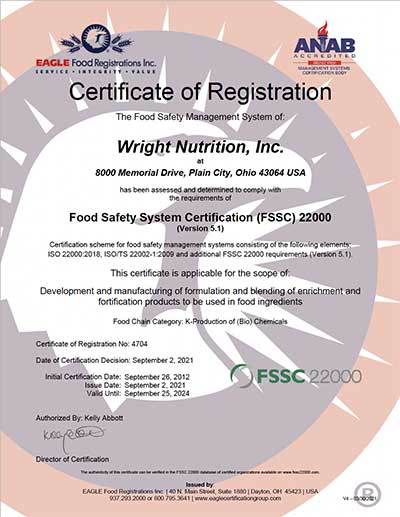 Quality Assurance
Our quality assurance starts with our commitment, as well as our plant and our people. To ensure that only the finest nutritional ingredients are produced, we employ a rigorous quality assurance program throughout every step of our manufacturing process.
Critical quality assurance points include:
Food Safety, Quality and Supply Protection Certifications, Audits and Protocols
GFSI Certified
Comprehensive HACCP Quality Control Program
cGMP Compliant Facility
In-house Advanced Quality Testing Facility
Certificate of Analysis for every order
GMO-Free Ingredient Sourcing Protocol
GMA Safe
FDA Bioterrorism Registration
Industry-Specific Ratings
"Fully Meets Expectations" ranking from National Food Processors Association (NFPA)
Superior Rating from American Institute of Baking (AIB)
Dietary Certifications and Considerations
Certified Star-K Kosher Manufacturing Facility
Halal Certified
Separate Allergen Processing Facility
We also routinely conduct continuing education seminars for our team members, to help ensure that your products are manufactured carefully and accurately.
Nutrient Content
We use only quality-checked ingredients. To ensure consistency in our formulation and manufacturing processes, each ingredient supplier is carefully evaluated and raw materials are tested. Once each supplier and ingredient is approved, every ingredient lot received is analyzed prior to use in our custom products.
Industry-Leading Delivery Time
The Wright Group™ realizes that your clients demand quick turnaround times to get their products on the shelf and to the consumer as quickly as possible. We are committed to making sure that your products are produced, quality tested and delivered on time, every time. Our proximity to two international shipping & airfreight ports and three major cross-country interstate systems give us an increased ability to meet your timetables.
Commitment to Accuracy
Prior to shipment, all our products are thoroughly tested by our in-house laboratory to ensure potency and performance, and a Certificate of Analysis accompanies all orders. In addition, a variety of testing options, including microbial analysis, are available.
Innovation
More than half a century ago, our company began developing innovative rinse-resistant grain premixes for the rice industry – and we've been expanding our services and developing breakthroughs in food enrichment and fortification ever since.
We recognize the need for technological developments to deliver the fortification and enrichment of essential ingredients that feed the world, including: rice and grains, as well as baking and milling solutions.
Our staff of PhDs and other experts, along with our state-of-the-art R&D department, are dedicated to helping you build your product ideas, whether they are expanded and improved product lines or totally new concepts.
Value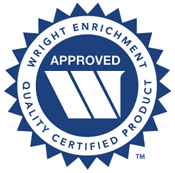 At the Wright Group™ we understand the importance of bringing added value to your company. How? It starts with service and continues with exceeding your expectations. We deliver all of this quickly and effectively, without compromising the taste or texture of your rice, grain, baked goods and milling products. You expect good results, and we strive to bring you greatness, which includes getting your idea to the retail and global market more quickly than any other manufacturer.
Customer Commitment
Expect a level of commitment you will not get from anyone else. The bottom line: we will scale up production for you any time of the day or night because we understand that bringing your idea tol market quickly is of vital importance to your business. It's all part of our commitment to bringing you the kind of superior service it takes to help ensure the success of your products and your company.

The Wright Group is EDI Compliant and able to handle your documents and business data with ease. This allows us to:
Exchange purchase orders, invoices, advance ship notices, and other business documents directly from our systems to yours, without human intervention.
Have fewer errors, lower administrative costs, and faster order-to-cash cycles.
Give us a call at (800) 201-3096, or email us.