This article, from the 1965 February edition of Dixie magazine about the Wright Group Rice Museum & the connection with tourism in the area.
Download the original article pdf
A Rice Museum
By Gil Webre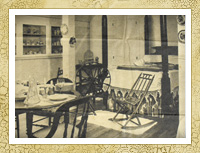 Mrs. S.L. Wright's unusual avocation combines rice promotion and tourism.
Question: Can you name a connection between rice and tourism?
Answer: Mr. S.L. Wright of Crowley.
Puzzled?
Mrs. Wright is a one-woman tourist association. She's also a rice promotion league. Both without thought of compensation save satisfaction.
Using her own and borrowed funds, Mrs. Wright recently moved a 120-year-old Acadian cottage 45 miles from Youngsville to her front yard in Crowley.
Reason?
"We need a tourist attraction," she explained, "and I'm turning the cottage into a museum." Mrs. Wright envisions her one-woman project as a rice industry museum, one which will attract men, women and children of all ages. "I'll have old threshers and other machinery on display for men; and various antiques, including cut glass and Prussian china, for women. Children should be interested in a collection of automobiles and an old airplane owned by my husband."
Mrs. Wright's interest in tourism didn't begin-nor is it ending-with her one-woman museum project.
For years she and her spouse have been traveling the state photographing and collecting information on plantation homes. She has assembled several color-slide shows, and visits various women's clubs around the state presenting them. She has also prepared a traffic bulletin which state police of Troop N of Crowley distribute to out-of-state motorists. This bulletin contains basic highway regulations-such as speed limits-as weel as rice recipes she has developed.
On this bulletin is a recipe for Sausage and Rice Royal, a baked rice dish, and for Rice Potato Salad, which uses cooked rice, potatoes and chopped hard-boiled eggs to make a different kind of "potato" salad.
This brings Mrs. Wright's interest in rice promotion to the fore.
For years, Mrs. Wright has been a one-woman rice promotion league. Example: She has written two rice recipe books. One, titled "The Poor Man's Rice Cookbook", contains recipes for bake rice dishes prepared in casseroles. It explains how to prepare Uptown Rice, High Society Rice, Chicken Cha Cha Cha, Pigs in Blankets, and several other rice dishes. The other book tells housewives how to prepare similar dishes in a special rice cooker, which is a modified double boiler.
This cooker is manufactured by a national firm and sold through various retail outlets. Mrs. Wright also buys them from the maker in wholesale lots and sells them at her cost to people interested in cooking rice. She also give away many in her efforts to promote rice usage. It's the same with her cookbooks. She sells many at her cost. But she gives away as many as she sells. The family receives no direct benefits from this promotion. Mr. Wright owns rice acreage, which he leases, and a laboratory where he makes vitamin concentrates for are mills. These concentrates turn plain rice into enriched rice. With the marriage of rice and tourism in the person of Mrs. Wright, it's not surprising that a rice museum idea was born.
But to have one, Mrs. Wright first needed a structure to be the museum and to house its displays."Mr. Wright and I honeymooned in San Antonio," she recalled. "I became strongly attracted to a house there. Needless to say, it was a copy of an Acadian style cottage."
Finding a suitable cottage to buy and convert into a museum proved to be a problem. "My husband and I traveled through this area several times trying to find a suitable one," says Mrs. Wright. "Several caught our attention- but they were simply too expense." Last Spring Mrs. Wright was in the Vermillion Parish courthouse in Abbeville checking records on a house she hoped to buy. "Then a young clerk there, Robert Hebert Jr., told me he and his family had been out riding the Sunday before and had discovered in a secluded area an old house, beautifully paneled," recalls Mrs. Wright. "I came home, picked up my husband, then drove back 50 miles looking for it.
"We arrived in the area after dark, and I thought I could see the Acadian silhouette in the huge trees back off the road. Mr. Wright insisted he could see nothing. "However, we returned early the next morning, and there it was. Very few people had seen the house back there, few even seemed to know about it." Mrs. Wright had found her cottage. It was occupied by field workers and owned by a Youngsville man, George Scranton.
"Yes," said Scranton, "it is for sale."
Mrs. Wright explained her project . Scranton knocked $1000 off his asking price. Mrs. Wright had a cottage. Owning a house in Youngsville and having a museum in your front yard are two different horses. Mrs. Wright first had to find a moving contractor to transport the house to Crowley, then she had to find a building contractor to restore the cottage, which was in a state of disrepair. By this time the field hands had moved out.
While showing the cottage to movers and building contractors, Mrs. Wright toured the structure many times. Once she found a six-foot dried snakeskin in it. Another time she looked in and quickly left. Inside she had seen a snake trying to catch a rat. She didn't wait around to see if it was successful. Finally, in late summer, movers were selected and the cottage began its 45-mile trip to the Wright homestead. For this journey, the roof of the cottage was taken off piece by piece, and the rafters were simply folded down. When it was finally loaded onto a flatbed truck, the structure looked like a oversized shoe box. "I couldn't even look at it," says Mrs. Wright.
"When I saw the cottage coming up the road, I kept thinking, My money. My money's going to be gone."
But the house was moved successfully, without even a piece of glass in its windows being broken.
The cottage is being restored, museum fixtures are being installed. "It should be opened in the near future," says Mrs. Wright. Then, Crowley will have a new rice museum. And the connection between tourism and rice will be stronger than ever – thanks to Mrs. Wright.