Since 2013, the Wright Group has partnered with John Waldron each year to create a detailed report on the outlook of the nutrition industry. Our report is packed with key statistics and relevant facts about trends in the food and beverage industry. John Waldron analyzes the industry from a global perspective and offers valuable insight into customer behavior, a defining factor that can revolutionize your business's performance when utilized effectively in your marketing strategy.
You can download the latest Marketing Environment below.
2016 Marketing Environment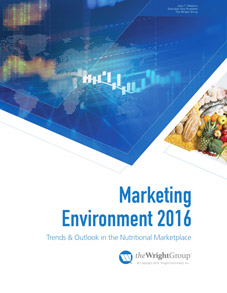 The Marketing Environment is packed with with information on the current national and global marketing environment. It's filled with facts and statistics that you can use to influence your marketing strategy.
If you have any questions about the report, or looking with help on creating products for your industry,
contact us.
Fill out the form to download your marketing outlook report.
Download Previous Years: