Another article discussing the Wright "Blue Rose" rice and it's affect on the rice tourism industry.
Download the original article pdf
Museum's 'being' result of special rice discovery
By Kathleen Collins
American Press Staff Writer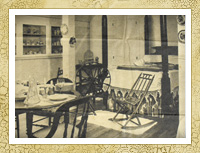 The year was 1907. Crystal clear was the new rice. Many years had been spent propagating this "gem" of a grain, a grain destined to affect rice growth for the next 50 years in the United States. The "gem" was christened "Blue Rose," a name which lives on in the Acadian house museum standing on the same plot of South Louisiana earth where the crystal clear rice was given birth.
The museum, five miles south of Crowley, is a "gem" itself.
Housing handsome pieces of antique furniture and treasures of cutglass, silver and china of every description, the front area is an original Acadian house circa 1848. Owned by George Scranton, the house was moved from Youngsville to its present site and restored by Mr. and Mrs. Salom Wright Jr. in 1964. It was Wright's father, Salmon Sr., known as "Sol," who propagated and gave the rice "gem" the name "Blue Rose."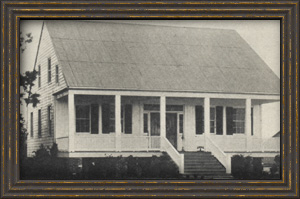 The quaint architecture of the house is typical of a south Louisiana raised cottage. The original handmade pink bricks found in the chimneys, destroyed during the restoration, are the pillars upon which the museum stands and are also found in the walk leading to the front steps.
Nestled among towering pines, the museum is a picturesque sight. The wide front galley features six white square columns interspersed with white-pillared railing of simply design.
Typical south Louisiana dark green shutters accent the windows of the museum house. Entering the museum, one is captivated by the many and very handsome antiques, among which are ones from the Zachary Taylor estate and others from the Abe Lincoln family.
During the recent Louisiana Press Women's convention in Crowley, the museum was visited by a number of convention delegates. Welcoming us upon arrival was the charming Mrs. Wright, who with her husband, has devoted 35 years to collecting antiques for their pleasure and the pleasure of the historical seeker.
The museum features the original sturdy cypress walls, beams and floors of the Acadian house and a typical large upstairs are used in early years as a dormitory for the young boys in the family. Later, the room was used to house the sugar workers during grinding season. Mattresses brought in by the workers were rolled up and piled in a corner, leaving an "immense" area for frequent "fais-do-dos."
Gracing a sideboard in the dining area, added last year along with a kitchen and upstairs bedroom, is an elegant Sheffield silver "after the hunter server." A handsome mahogany "leaf whatnot" is another interesting item in the dining area. While the front serves as a whatnot for decorative pieces, the back is designed to house the much needed but awkward extra leafs for the dining table.
While there, steaming black coffee, hot sausage biscuits and other delicious breakfast hors d'oeuvres were served in typical Southern hospitality manner.
The quaint and charming museum is a wonderful place to stop and drink in an atmosphere of "yesteryear."